ETI have produced a report on the planning and delivery of Sure Starts' services to families during COVID-19.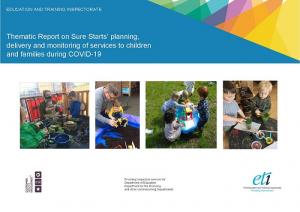 Since 2016, the Education and Training inspectorate (ETI) has been evaluating Sure Start on behalf of the Department of Education.
During March and April this year, ETI inspectors worked with Sure Start providers to gain an understanding of how they adapted their support and services for families and children during lockdown.
The report outlines the successful ways that were used by Sure Start projects to overcome some of the many challenges faced in meeting the needs of children and families during COVID-19. The changes and lessons learned during this challenging time will help shape and inform future support and services.
The report is based on the responses from 38 Sure Start providers, focused discussions with a sample of 10 projects and other leadership and management groups responsible for Sure Start projects.