Noelle Buick, Chief Inspector visited St Comgall's primary school in Bangor to hear about their work on the Department of Education's (DE) 'Learning Leaders' strategy at foundation stage (primary 1 and 2).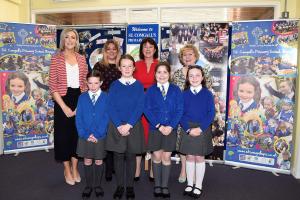 The Learner Leaders strategy aims to help teachers develop their leadership skills and provide practice led support using the best existing examples of good practice. ETI has been commissioned by DE to evaluate innovative practice in professional learning which includes the Learning Leaders strategy.
St Comgall's Principal, Cathy Hunter, teacher and Foundation Stage Leader, Julie Anne Mullally, together with Lyn Lynch and Margaret Farragher from CCEA discussed progress on their work to date. This included: CCEA's Foundation Stage Capacity Building to support Learning Leaders and; the use of the Inspection and Self-Evaluation Framework (ISEF) to support sustaining improvement.
St Comgall's PS is a Catholic Maintained primary based in Bangor but serving an area which reaches from Helen's Bay to Conlig. The school has an enrolment of 312 pupils and in 2016 celebrated its 125 year anniversary.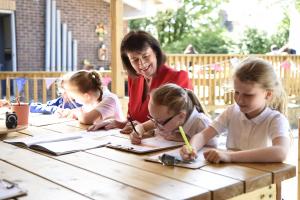 St Comgall's PS have a culture of employing teaching and learning practices which are centred on research and international practice.
In 2016 the Foundation stage of the school reviewed learning practices and in particular classroom learning environments. This led to a greater focus on Growth Mindset and the Personal Capabilities and Thinking Skills for pupils. The outcomes have been so successful that it now a wider-school approach at St Comgalls.