The Education and Training Inspectorate (ETI) appreciates the significant and continuing efforts of all staff in schools, pre-school settings, training facilities and C-19 clusters in providing placements for children of key workers and vulnerable learners, alongside the provision of remote learning.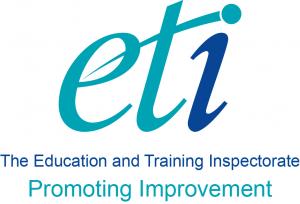 Children and young people's well-being, safety and continued education remains a priority for us all. Our learners are at the heart of what we do, and ETI is working with the Minister and Department of Education and remains committed to supporting school/provider's staff, parents and pupils/learners by offering bespoke advice, guidance and assistance.
ETI inspectors have been redeployed to support the education system and have been assigned as designated Covid-19 link officers, in partnership with the CCMS, CSSC and EA advisers. We will continue to review and monitor the situation in line with advice from the Minister, Department of Education (DE), Public Health Agency (PHA) and the Executive.
Ahead of school closures, to support the vital efforts of schools and providers during these challenging times and to alleviate pressure on school staff, all inspections were paused on 18 March 2020 until further notice. When schools and providers re-open to all children and young people, inspections will continue to be paused for a period of time (subject to review). During this period, ETI will continue to work with schools, providers and the wider education system to provide advice and support.
Should any school's or provider's staff wish to discuss their approaches to remote learning with a District Inspector please contact the Inspection Services Team on 028 9127 9726 or by emailing eti@education-ni.gov.uk. We are all in it together and welcome the opportunity to support you in any way that we can.
The ETI will continue to post updates on Twitter. Please follow us on @ETI_news to receive these updates.