ETI is committed to wide-scale, meaningful consultation and engagement with all stakeholders in order to support schools and organisations as they move forward during this challenging time.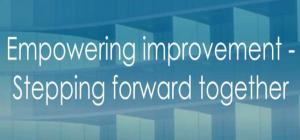 ETI aims to work alongside schools and organisations with a particular focus on sustainable capacity-building of leaders and teachers in the key area of self-evaluation, in order to improve the educational provision and attainment of all pupils/learners.
This week, ETI invited all pre-schools, primary, post-primary and special schools to become involved in the 'Empowering Improvement – Stepping Forward Together' project. This capacity-building project will focus mainly on the key area of self-evaluation leading to improvement.
All schools and pre-schools have been offered the opportunity to participate in ETI-led professional learning activities and/or to take part in consultations around the design of the project and the development of an inspection strategy.
Expressions of interest must be returned by 12.00pm Wednesday 20 October.